Hotel nearest to Bilbao Arena
YOUR HOTEL NEAR THE BILBAO ARENA
Have you bought tickets for an event at Bilbao Arena, but you don't have a place to stay yet? The Hotel Gran Bilbao will be your best option. Not only do we offer the best services at the best price, but we are also located 5 minutes away from the sports venue and musical events centre.
Stay at the Hotel Gran Bilbao to attend the events at the Bilbao Arena
Our modern hotel has double and triple rooms, for 4 people, suites with a jacuzzi and we even have rooms completely adjusted for people with reduced mobility. The hotel also has a car park, restaurant, gym, and free wifi in every room.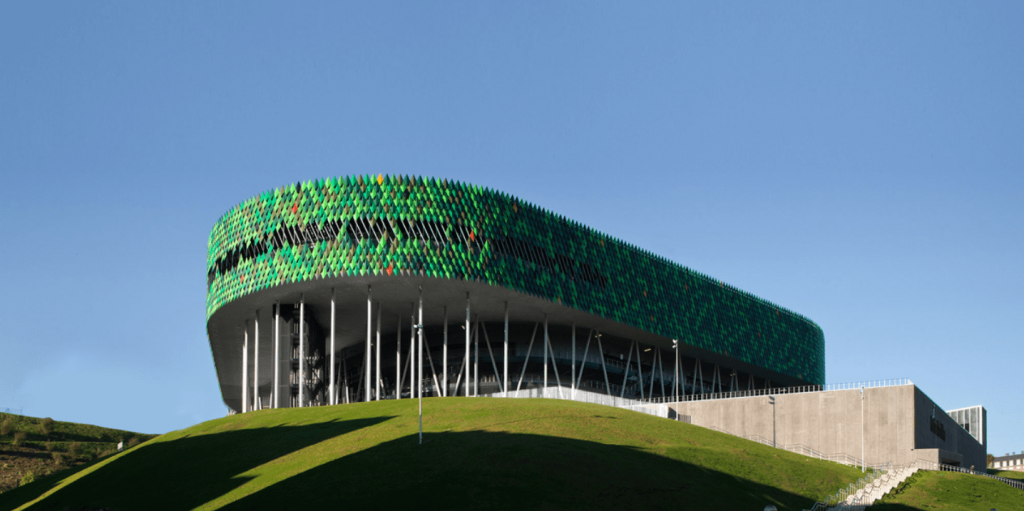 The 'Palacio de los Deportes', also known as Bilbao Arena, is a venue where indoor football, basketball and badminton matches are played, as well as gymnastics, dance and ice shows and other cultural and family events, like theatre plays, musical concerts or circus shows.
Some of the international artists or most important events that have taken place at this venue are Alejandro Sanz, Scorpions and Pablo Alborán. It has hosted shows such as Cirque du Soleil, Disney Live and Disney On Ice and theatre performances like The Circus of Horrors, as well as many other events, exhibitions and conferences of every kind.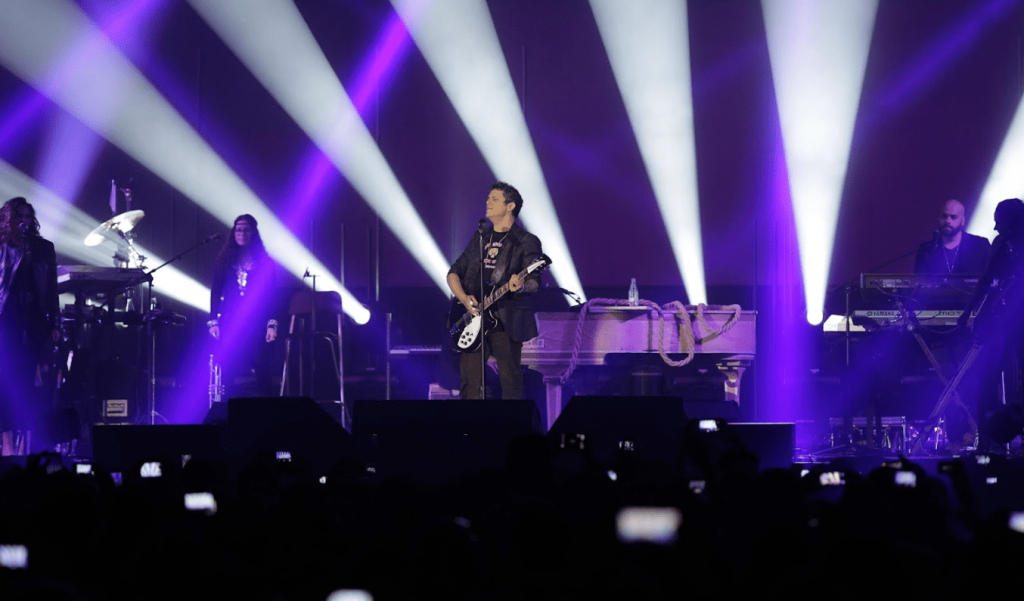 PALACIO DE LOS DEPORTES – BILBAO ARENA
The 'Palacio de los Deportes' (Bilbao Arena) is a multipurpose centre and is a property of Bilbao Council, where many events are celebrated. It is the chief venue for all of Bilbao Basketball Club's games. Every year, it hosts many basketball matches, among other sports events.
In the Bilbao Arena, dance and circus shows and concerts from national and international artists are also celebrated, as well as exhibitions and other corporate and political events.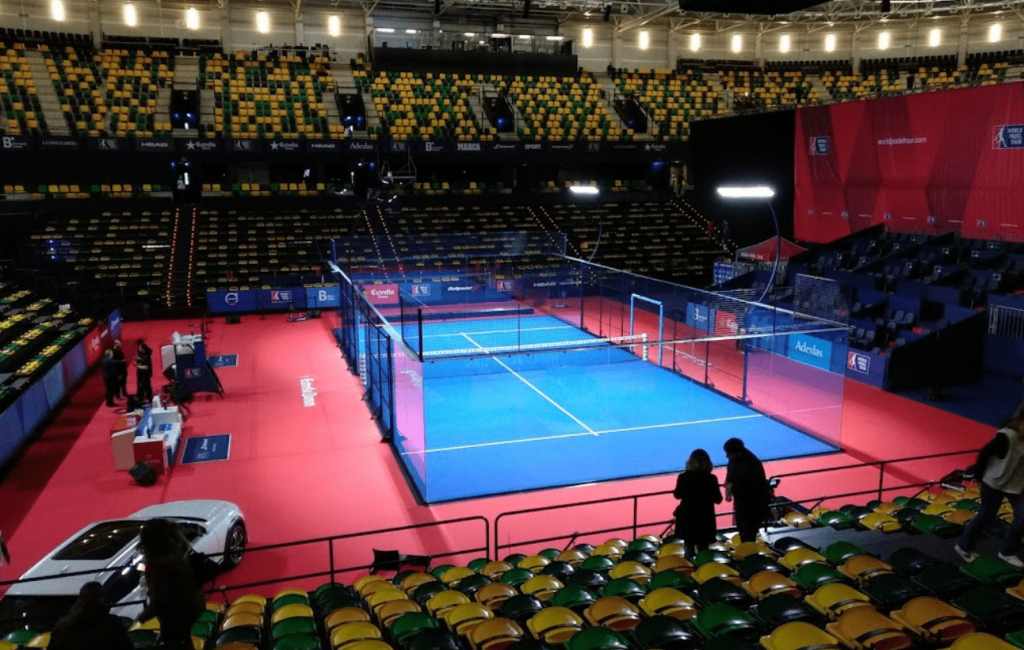 We are going to highlight some of the most important events from this year, but you can also check Bilbao Arena's official website to get more information about ticket prices and times.
Some of the events that are taking place in the upcoming months are:
Final Four Basketball Champions League (8th May)

ESTOPA Concert (7th May)

Leiva Concert (21st May)

Anuel Concert (10th June)

Melendi Concert (17th June)

Sebastian Yatra Concert (18th June)

BBK Bilbao Music Legends Fest (24th June)

Malu Concert (11the September)

Raphael Concert (2nd October)
Bilbao Arena has an area of 26.000 m2 and was inaugurated in 2011. It is located in Bilbao's neighbourhood of Miribilla and is located 10 minutes away from Bilbao's old town, in one of the newest areas of the city. It has green areas such as the Gernika Garden as well as numerous buildings of architectural interest, such as the Santa María Josefa's Church and the 'Palacio de los Deportes' (Bilbao Arena) itself.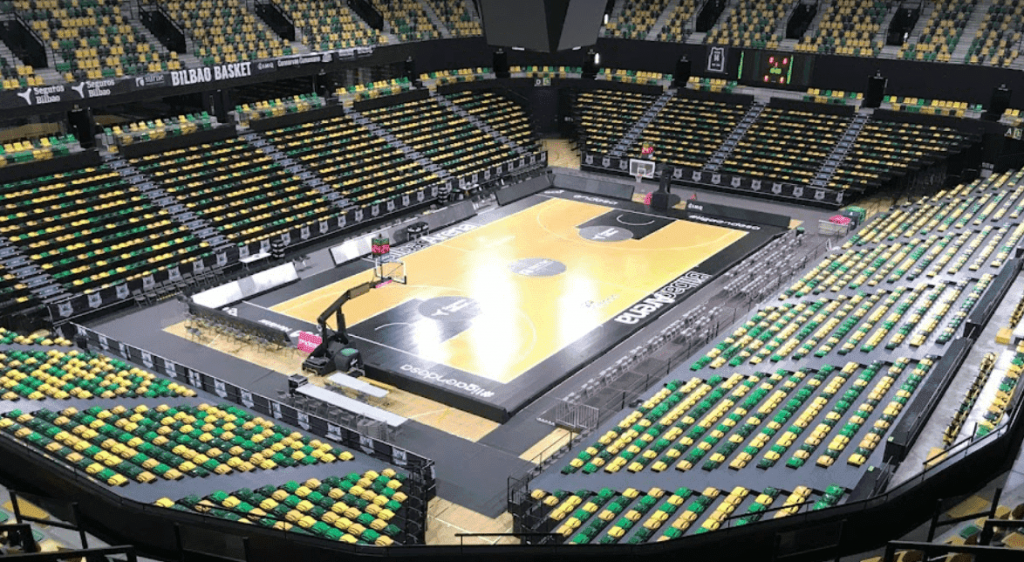 HOTEL GRAN BILBAO SERVICES
Regarding the Hotel Gran Bilbao, the distance to the Palacio de los Deportes couldn't be better. If you'd like to enjoy 4 star services and to visit the Bilbao Arena, it's only a 5 minute drive away, crossing Bilbao's river. If, on the contrary, you'd like to enjoy a walk around the area, you'll get there in just 15 minutes by foot.
Our hotel has all the services that you'll need so that once the event you attend is finished, you can continue to live a unique experience in Bilbao. From underground parking, exclusive to our clients, a restaurant with a buffet breakfast and all types of rooms. The Hotel Gran Bilbao offers rooms for up to 4 people, jacuzzi suites and rooms suitable for people with reduced mobility, such as paralympic athletes who have a competition in Bilbao.
BILBAO EXHIBITION CENTRE – BEC
Another advantage of our central hotel is its easy access to another fairground of national and international reference: The Bilbao Exhibition Centre, which was inaugurated in 2004. It is located in a suburb called Barakaldo, to which you can go by car (in 15 minutes) or by comfortably taking the metro.
The Bilbao Exhibition centre has a capacity for an audience of up to 18.000 for any kind of event and has hosted concerts of international artists such as Bob Dylan, David Guetta or C. Tangana. Sporting events of the highest level are also held in the venue, like the World X-Trial Championship.
To get from Hotel Gran Bilbao to BEC (Bilbao Exhibition Centre) it will take up to 30 minutes by metro from Basarrate metro station, the closest one to the hotel. Other metro stations that are close to Hotel Gran Bilbao are Santutxu Station and Unamuno Station (Casco Viejo-Old Town) which are located in commercial and leisure areas of significant tourist interest.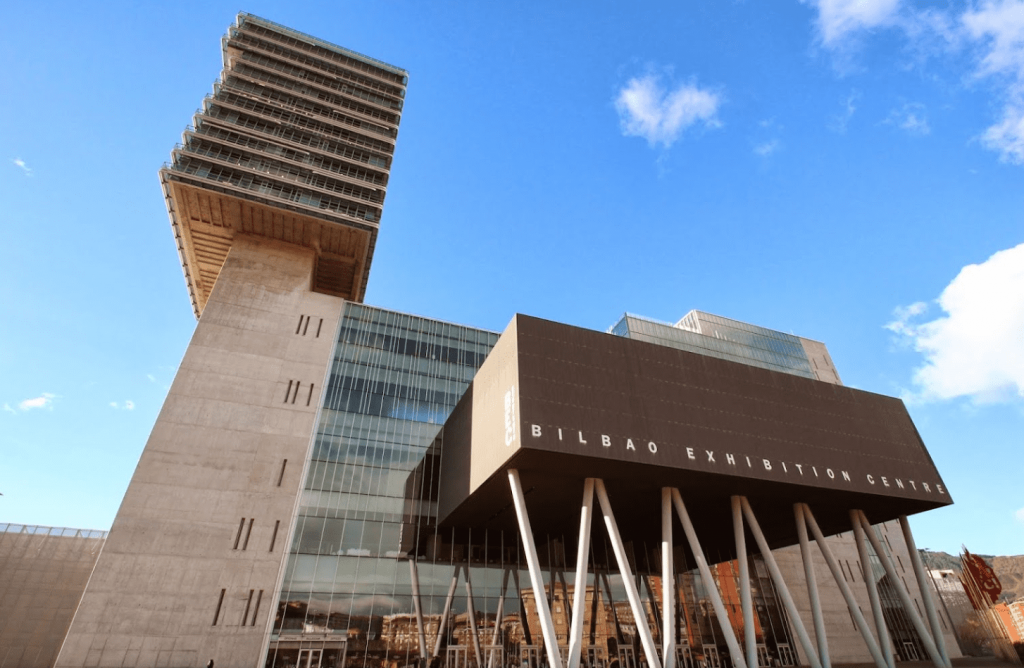 At BEC, different types of events and exhibitions are also held, such as:
Windeurope 2022 ( 5 – 7th April)

Dream Theater + Devin Townsend (1st May)

Bad Religion Concert (13th May)

WATAUBA MUSIC FEST (27th May)

BIEMH (13 – 17th Jun)

Juan Luis Guerra Concert (7th July) 

Camilo Concert (23rd July)

Rosalia's Motomami World Tour (27th July)

Aitana Concert (10th September) 
For more information about concerts and events that are taking place this year at the BEC (Bilbao Exhibition Centre), we suggest you visit their website to get up-to-date information about ticket prices and timetables.
COME TO HOTEL GRAN BILBAO
If you are looking for special offers and promotions, don't forget to visit the offers section of our website. If you are looking for the best price, it is better to contact the hotel directly.
If you are thinking about creating your own event, the hotel also has an auditorium, meeting rooms and halls for weddings, banquets, corporate or political meetings or any other kind of event, such as CD or book presentations. If you want to celebrate your own event with us, we will be happy to work with you. Contact us for more detailed information.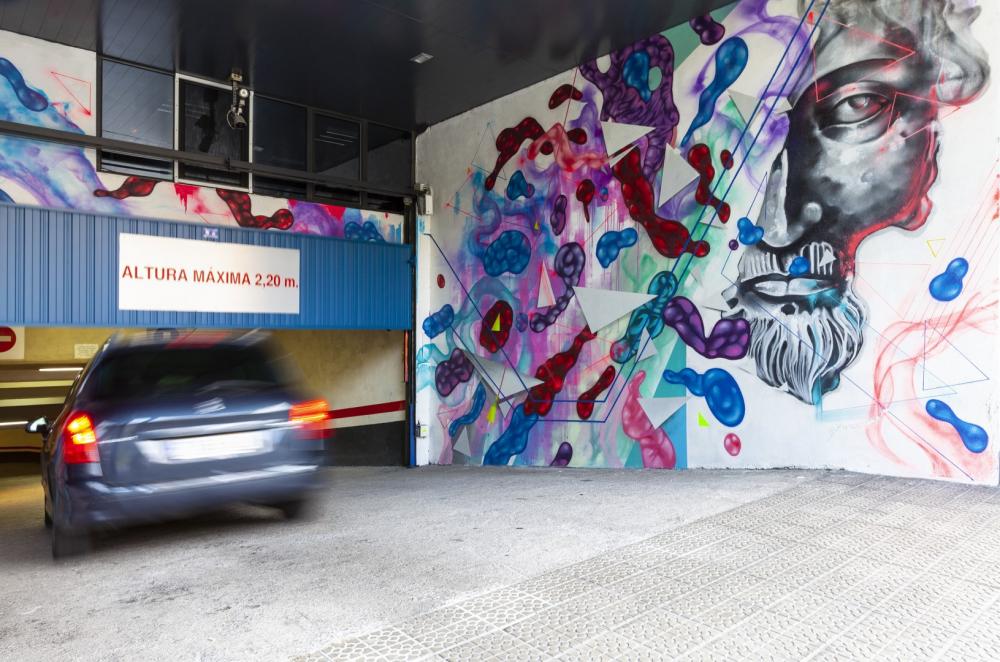 If you are looking for information about Bilbao Arena or Bilbao Exhibition Centre, you can visit their websites to find out more about their upcoming events. If you already have tickets and you are looking for a place to stay, discover our superior rooms. You can stay in a modern hotel with new accommodation and a restaurant that you won't want to leave. We have services that will take care of you, like our gym, and others that will make your life that little bit easier, like the free wifi that you can use in every room. We will be waiting for you at Hotel Gran Bilbao, contact us for more information!
Go to Home    –    View Rooms    –    View Restaurant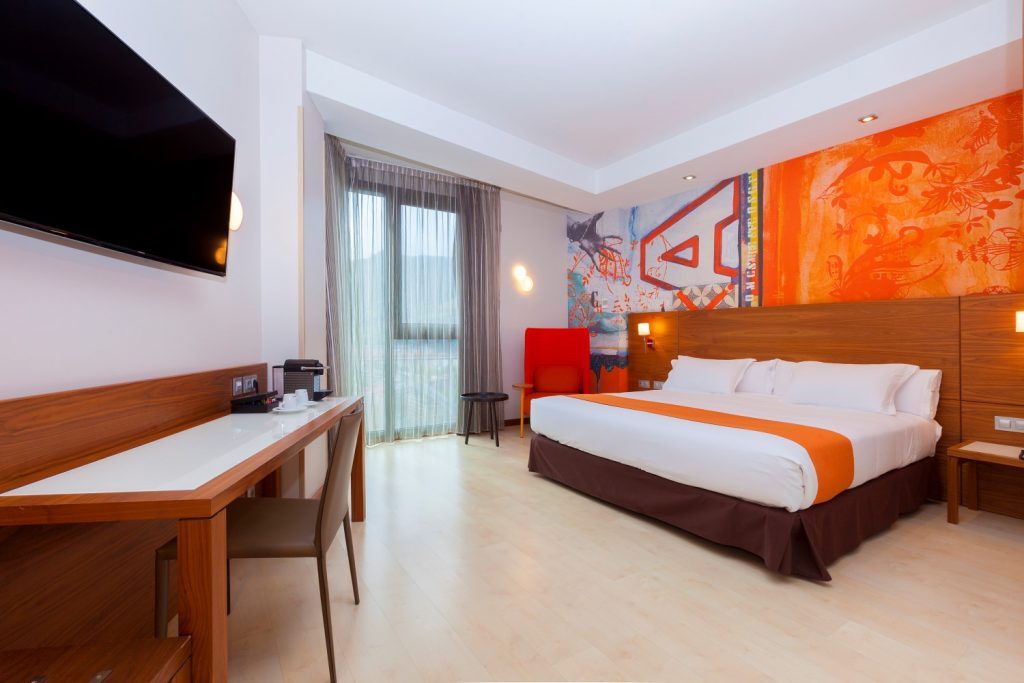 Categories: blog
« (Español) Partner Solidario 2022 | ALCER (Asociación para la Lucha Contra las Enfermedades Renales)
(Español) AGUA KM0 »