Semana Santa en Bilbao
.
NO TIME FOR BEING BORED IN BILBAO
.
The Easter holidays are the warm-up for the summer holidays. First step: booking your hotel in Bilbao. Second step: reading this post to see what to do and see there.
.
In addition to this, during Easter Hotel Gran Bilbao will be offering guests a free bus shuttle service to the city's main tourist attractions. The bus will stop at the Old Town, Guggenheim Museum, Gran Vía and the Colgante Bridge; declared a World Heritage Site by UNESCO.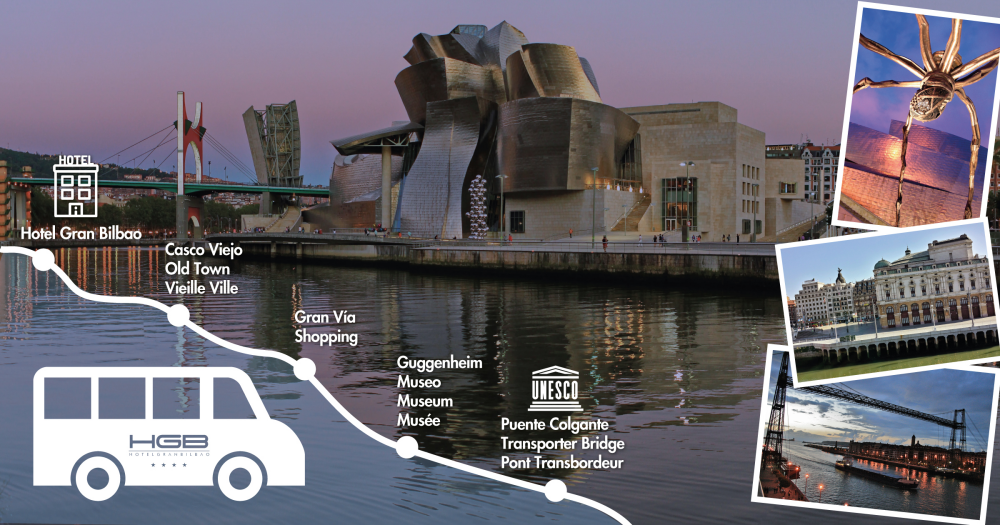 .
We recommend reading some of our blog posts on what to do and visit in Bilbao and its surroundings; from those written about set locations used for Game of Thrones and the Colgante Bridge.
We have already written different posts about what to do and visit in Bilbao, from the Old Town to the museums, including the Guggenheim, the most world-renowned one of them all.  A good choice for Easter is a visit to the "Goya and the Court of Enlightenment" exposition in the Fine Arts Museum, with works by the famous Aragonese painter and courtier.
Visiting during Easter means that a visit to the Museum of Passages of Bilbao is a must. Found in the Old Town, this museum showcases the history of past Easters in Bilbao and the "cofrades" (part of a Christian brotherhood) that parade down the city's streets every year. You will enjoy admiring the sculptures and other objects related to this time of year as well as exploring the building which is listed as a building of Cultural Interest and dates back to the 18th century. It was built for wine exchange (with carriages entering through its majestic door).
.

.
If you fancy seeing a procession, Bilbao during Easter will be the setting for lots of modest processions in which more than 2,000 "cofrades" will participate. Do not miss the processions in other zones of the Basque country, such as that of Balmaseda. The locals in this village will take part in a live rendition of the Carrying Of The Cross.
.
Categories: Campañas, Descubrir Bilbao / Bizkaia
« Transfer Semana Santa en Bilbao
Bilbao de compras »