No sin mi mascota: Actividades para hacer en Bilbao con nuestro perro
Whoever has a pet at home knows what we are talking about. Needless to say, they are part of the family and it is not easy to leave them when we go away on holiday. So it's time to plan a holiday; as we prepare the suitcase our loyal friend watches you, waiting for his favourite toy, water dispenser and food to be packed in your luggage.
.
Many hotels do not allow pets in their rooms. That is why at Hotel Gran Bilbao we wear the "pet friendly" badge proudly and accept dogs. We know how hard it is to be separated from your friend when travelling. That's why we have rooms reserved exclusively for you to stay in with your pet. We know how important it is to share trips with them.
.
Arrival at the Hotel Gran Bilbao
They are just as important to you as to the hotel staff. Therefore, during the check-in we will inform you of the behaviour guidelines while you are at the hotel. Then when you get to the room, your best friend will receive a water dispenser, a toy and dog biscuits. There is also a special bed for pets, to ensure they enjoy a good rest just like you.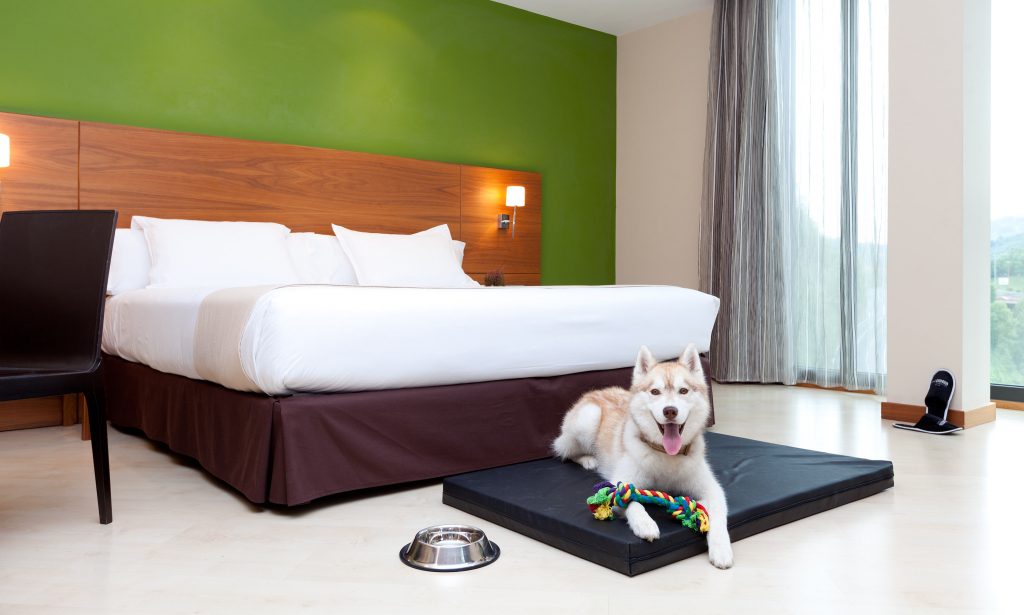 .
Once the luggage is unpacked, it's time to go out and follow new scents. In just 10 minutes you will reach the Old Town, where the aroma of freshly made pintxos will capture both of your attentions.
.
Let's move!
Attention! Before embarking on the sporting adventure that awaits you, we must have a good breakfast. So you can keep up with your faithful friend, there is nothing better than going to the healthy corner of the breakfast buffet first. Or if you prefer to have breakfast with your pet, you can request breakfast in your room, because dogs are not allowed access to the breakfast area.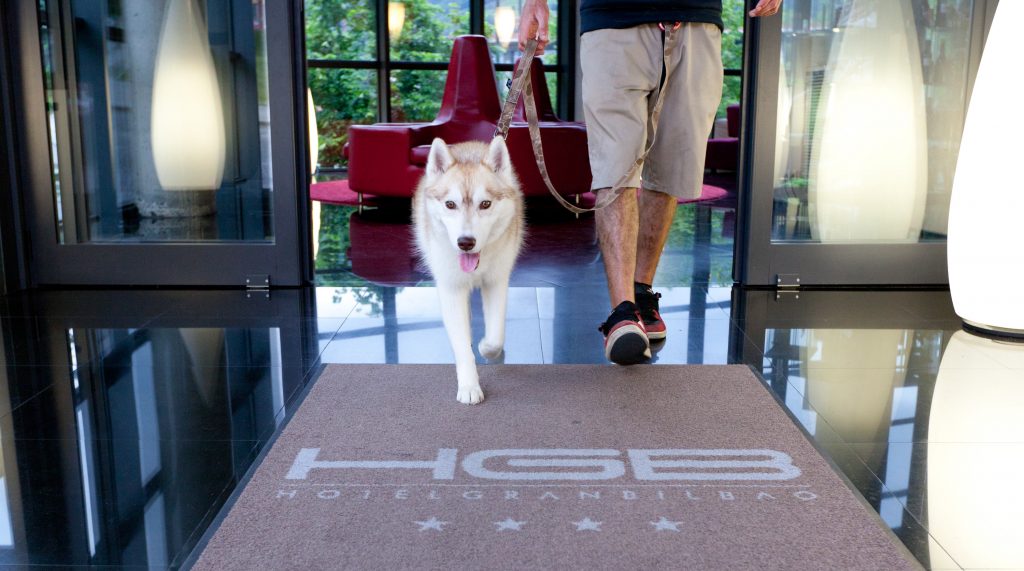 .
If you are both want to visit the beach, then there are hundreds of sandy areas where you can take long walks out of season. The most daring, with 2 or 4 legs, won't hesitate to dive in the water. Also it does not matter if you dont come by car, because fortunately, the train, the tram and the metro all accept pets, as long as the rules are respected. Come up to Sopelana where there is also a dog park where you can train.
.
If you like to travel the city by bicycle, you are in luck. Our friends from Tourné think of everything and everyone. They have special carts for your dog. Of course you won't get any help pedalling from your furry friend.
.
Your visit to Bilbao will also keep you in shape, as you can also explore the estuary by Kayak. What's more is that they will also provide you with a harness so that you can paddle together. We can already imagine the number of photos you will take from your adventures together. However if you prefer to cross the estuary using it's bridges then you are in luck, since January 2017, the famous suspension bridge and the world heritage site allows the entrance of dogs.
.
The day that you plan to put aside for cultural activities you should know that although the Guggenheim mascot is a huge dog, the entrance of animals to the museum is not allowed. No doubt they will be happy enough to wait for us in one of the day care centres that can be found in the city. Also if your dog enjoys exhibitions like you, at Aldama Fabre Gallery they are happy to welcome you both.
.
A good bed is what is needed after all these activities!
.
We await your visit at our hotel in Bilbao. We are the hosts of dogvivant, a website where you can find all the necessary information about travelling with a dog in Bilbao.
Categories: Descubrir Bilbao / Bizkaia
« InstaBilbao: likes garantizados para tus fotos en Instagram
Experiencias Románticas »